In 2023, the Children's Environmental Literacy Foundation announced that it has added the Young Voices for the Planet's series of groundbreaking films featuring student environmental action to its educational resources. Associated curriculum resources will be absorbed into CELF's portfolio of educational tools soon. After more than a decade of innovation in youth voice empowerment and environmental education, over a dozen short films produced, workshops and film screenings hosted across North America, PBS broadcasts, National Geographic streaming, and numerous other creative partnerships, Young Voices for the Planet is entering its next phase of growth as a part of CELF.
Young Voices for the Planet films and curricula were originally developed as a project of Young Voices on Climate Change, a nonprofit organization. All associated copyrights and trademarks have now been assigned and transferred to CELF.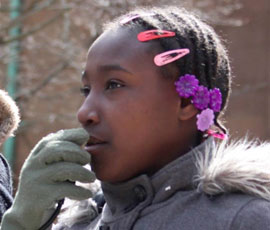 WORDS HAVE POWER
10-year-old Jaysa rallies the community with her speeches about how the power plant causes asthma and "so much suffering." When they succeed in shutting down the plant, Jaysa concludes that "words have power."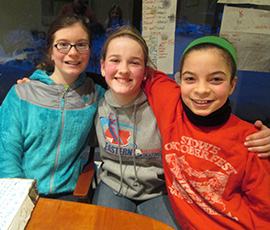 SAVE TOMORROW
Inspired by the other Young Voices for the Planet films, three 9-year-old girls testify at their town hall to change a town law (with unanimous support!) to allow solar panels on public buildings. They then save their local woods.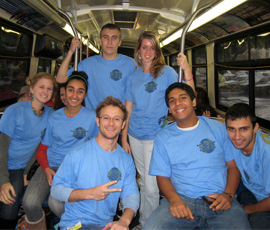 TEAM MARINE
In this inspiring story, we follow Team Marine, an eco-minded group of high school students, as they testify at city council and successfully ban plastic bags in their city.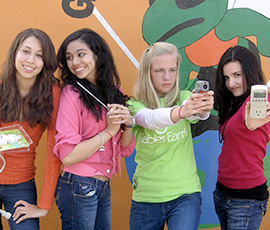 DREAMING IN GREEN
Learning that of all the coastal cities in the world, Miami will suffer the greatest economic loss, these Florida middle school students do a school energy audit and save their school $53,000 through simple actions.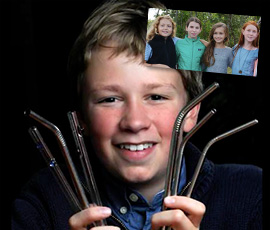 THE LAST STRAW
Nine-year-old Milo Cress is concerned about the millions of straws that pollute waterways, waste fossil fuel and harm ocean creatures. He convinces restaurants to "go straw-free," and three Cape Cod girls "take the pledge to skip the straw!"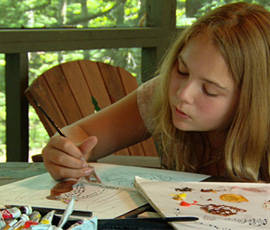 OLIVIA'S BIRDS AND THE OIL SPILL
Eleven-year-old Olivia's deep connection with the Gulf of Mexico and her love of birds move her to raise $200,000 for Audubon's rescue efforts. She then visits elected officials to ask them to support clean renewable energy.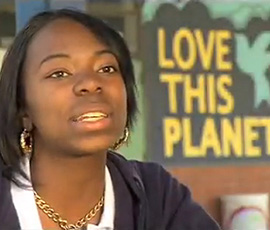 GREEN AMBASSADORS
Teenagers from Environmental Charter High School in Lawndale, CA recycle, compost, plant trees, educate students about sustainability and more to reduce their carbon footprint.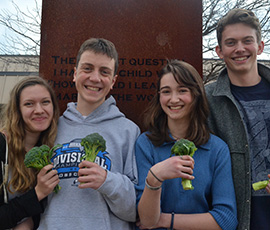 LONGING FOR A LOCAL LUNCH
Students in Great Barrington, MA change their cafeteria fare from processed foods to local food and calculate the difference in CO2 emissions between eating locally grown food vs food coming from great distances.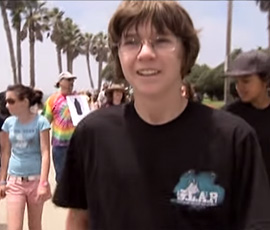 KIDS V GLOBAL WARMING
12-year-old Alec Loorz created Kids vs. Global Warming, the Sea Level Awareness Project and the Declaration of Independence from Fossil Fuels campaign.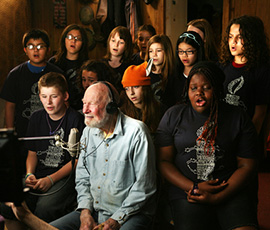 WE SING OUT!
The Rivertown Kids Chorus sings with folk icon Pete Seeger about civil rights, social justice, cleaning up the Hudson River, global warming and the power of one person to create community and make great changes in the world.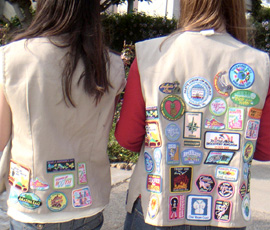 GIRL SCOUTS
With support from the Sierra Club, these Girl Scouts go door-to-door distributing thousands of free energy efficient compact fluorescent light bulbs (CFLs).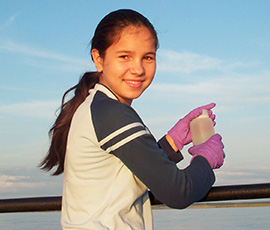 ANYA: CITIZEN-SCIENTIST IN SIBERIA
Anya, an indigenous Siberian girl, sees her world literally melting away. She joins Arctic scientist Max Holmes' research team and enlists schoolmates in collecting water samples from the Lena River.