CELF's Whole School Change program is designed to assist systemic integration of sustainability throughout curriculum, school culture, campus and community. We support facility and campus infrastructure changes and/or projects and create new corresponding learning opportunities.
Commit to a school-wide approach embracing Education for Sustainability (EfS) as an integrated context for learning across grade levels and subject areas, and in your learning community at large.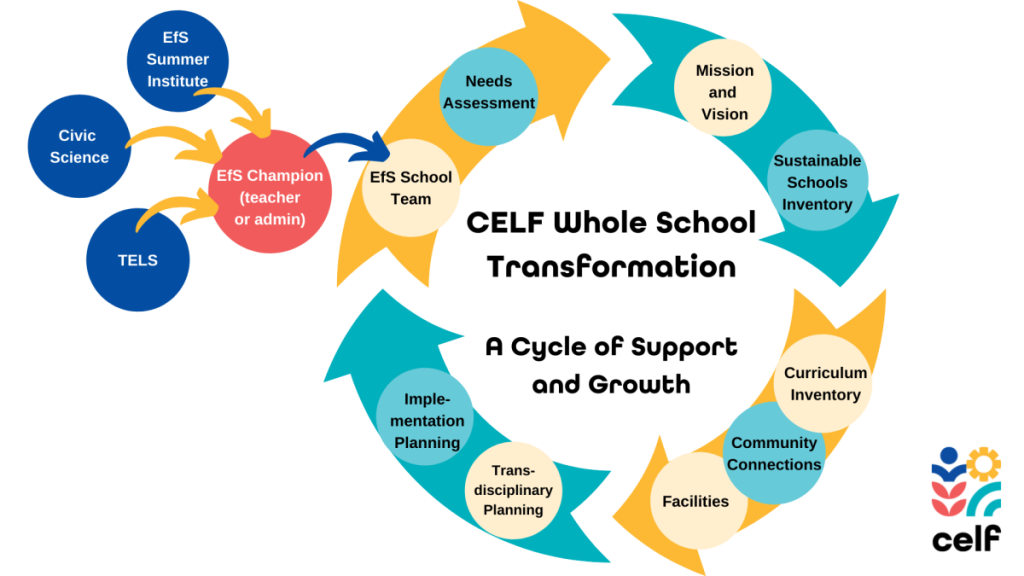 Through this program, CELF supports multiple district/school goals and initiatives, including:
Integration of local environmental assets and challenges into customized place-based curriculum units
Enhancing current curriculum with the Big Ideas of Sustainability
Connecting NGSS to place-based units set in your community
Establishing a professional learning community of educators who work together to implement best practices for sustainability
Direct support for achieving the U.S. Department of Education Green Ribbon Schools Award reflecting whole-school change
Advise on facility and campus changes and/or projects and create new learning opportunities
Engage community stakeholders and strengthen partnerships in sustainability initiatives
Coaching on instructional plans for change
Ongoing curriculum and instruction support throughout the school year
School/District team participation in the CELF Summer Institute
Examples of Tier III/Whole School change engagement with CELF
Putnam Valley Central School District
Putnam Valley's sustainability initiatives began with their campus infrastructure. As part of an energy performance contract with Consolidated Edison, their local utility company, the school district installed a number of energy efficiency projects on multiple school campuses. The District worked with CELF to better integrate the sustainability changes to their physical plant with their curriculum to engage students in the transformation process. Now the District is on its way to implementing whole-school-change.
CELF engagement in Putnam Valley included:
Working together with school administration and teachers to establish project plan for duration of contract including desired goals and outcomes
Touring key facilities with teachers, sustainability teams, and facilities staff to generate new curriculum units connected to infrastructure changes
Welcoming teams of Putnam Valley teachers to the CELF Summer Institute for two consecutive summers
Conducting 16 on-site professional learning workshops with teacher teams across all schools over a two-year period
Outcomes:
Creation of a dedicated website connecting school and community sustainability initiatives
Sustain Putnam Valley Week – an annual week-long celebration of sustainability that connects school and community
Ban the Bag campaign – successful student-led effort to convince local businesses to stop using single-use plastic bags
School-wide trash-free lunch challenge
Establishment of after-school garden club and installation of new school garden
Selected Curriculum Connections:
Elementary School/ Kindergarten: Trash Monsters: devising ways to re-use materials
Elementary School/3rd grade: Persuasive writing units on plastic pollution and water conservation
Elementary School/3rd grade: Rainforest Animal Project – create a new animal that can survive well in habitat
Elementary School/4th grade: Research project into wind energy
Middle School/6th Grade Science: Product Life Cycle unit examining everyday objects from conception to production to end-of-life
Middle School: Pollinator Project Symposium
Middle School: Place-based pond unit: exploring interdependence and systems in local pond ecosystem
High School/Environmental Science: Energy Efficiency investigation unit
Additional resources: