In early April of 2020, a local New York paper ran an alarming headline: "Bronx Residents Twice as Likely to Die from Covid in NYC." New York City was in the throes of the Coronavirus. That week in April, 2,000 people died of the disease, and in just two months, 20,000 more would perish. In a city of five dense boroughs, the Bronx was hit the hardest; in Manhattan, just ten miles away and with a larger population, fewer people were dying from the disease. Ninth-grader Jose Carlos Serrano lives in the Bronx. He saw the stories, the numbers, and they disturbed him.
"After hearing reports of how in areas such as Hunt's Point or Mott Haven in the Bronx, communities were being affected disproportionately by the virus, I became curious to why this is," Serrano wrote. The numbers were there for all to see, the daily death toll was well-reported. But few seemed to be asking why, and even fewer – what to do about it. Serrano, a student at West End Secondary School in New York, decided to investigate. This past year Serrano morphed from a curious ninth grader into a civic scientist. In a time ripe for despair and disengagement, he chose a different approach. "This topic is important and relevant and should be addressed," Serrano said. So, with help from his teacher and an active learning program, he went to work. By May 2021, when Serrano presented his findings in a huge virtual symposium, he had become an environmental justice advocate for his suffering neighborhood.
"Covid 19 means systems thinking is no longer optional"
Seth Reynolds wrote in an article April of last year, observing that the world had been brought to its knees by the pandemic. Reynolds, a consultant at NPC, a think tank in the United Kingdom, joined others across the globe in humble acknowledgement that our planet's fragile social, economic and environmental infrastructure had foundational fractures, laid bare by a devastating disease.
Longtime proponents of systems thinking through sustainability education, CELF (Children's Environmental Literacy Foundation) launched a Civic Science: Inquiry to Action program four years ago that combines experiential learning with a systems-thinking approach to problem solving. CELF designed and piloted the program in New York City schools in conjunction with content expert partners Mount Sinai Transdisciplinary Center on Early Environmental Exposures, NYC Dept of Health, and CUNY Law Center for Urban Environmental Reform.
In its fifth year, CELF's civic science program is now implemented in schools across the country. Participating students identify local issues with social/environmental impact and they work through a progression of active data collection and analysis, collaborative innovation and community engagement, culminating in a sharing of practicable solutions in a public forum.
Emily Hollyday teaches Earth Science at West End Secondary School in New York, and her class participated in CELF's Inquiry to Action Program this past year. When the class started a unit on air pollution, Jose Carlos Serrano said he began to connect the dots… There were, of course, a few things he already knew about his home city; The Bronx is bordered and bifurcated by major multi-lane highways – Cross Bronx, Bruckner, Major Deegan and Sheridan Expressways all designed by New York urban planner Robert Moses. Moses directed construction of more than 30 major roads spanning from the 1930's through the 1960's in New York City, the legacy of which critics claim is segregation rather than transportation. Serrano and his class learned his borough's history and about the highways that isolated and polluted the community. And they learned about the delivery depots and industrial sites adjacent to residential areas with lower than average incomes, but serving other more affluent communities. Before redistricting, the Bronx had the highest poverty rate of any congressional district in the country, according to US Census figures, and also has the highest rate of asthma in the United States. (NIH) The borough is mostly populated by people of color, Serrano noted, many of whom were dying from Covid 19 at a higher rate than elsewhere in the city, in fact, the country and the world.
Using the framework provided by CELF's Inquiry to Action program, Serrano began to collect air pollution data through air monitoring websites and NASA's Global Observer App to answer his guiding question; Are PM 2.5 (fine particulate matter) rates higher in the Bronx than other boroughs and if so, what can we do to solve it?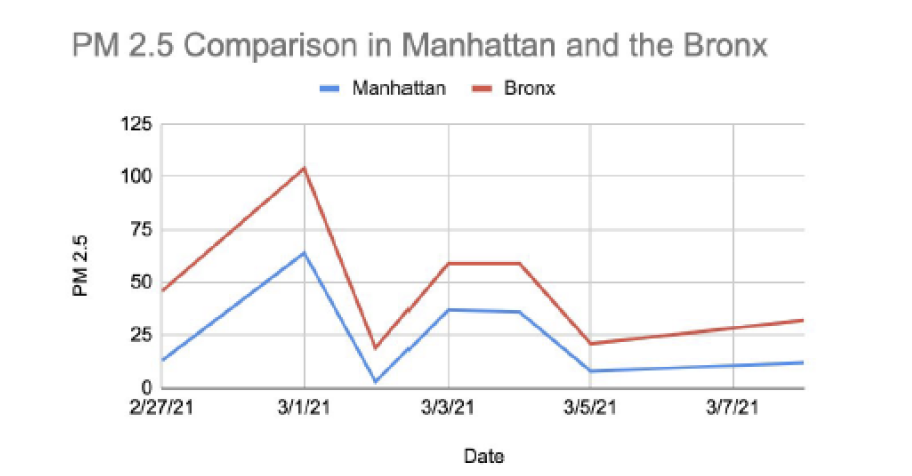 CELF's mission through its Civic Science program is for students to take a deep dive into the connection between social justice issues and environmental health, with all the inherent complexities, as they gather real-time, first-hand data and research historical trends. Students begin the process by looking at their communities through a wide lens, studying them as scientists do systems – identifying and mapping manmade and natural elements, and relevant populations. They learn about "feedback loops" running between sources of pollution, impacted areas (downstream, downwind or adjacent) and carbon sinks. They see both visually and intellectually how civic science issues are multi-layered, affecting stakeholders differently. They discover that the sources of problems and the solutions to them are rarely clear-cut. But even more important, the students cultivate the skills necessary to approach such complex and interconnected issues, and, with collaboration and innovation, to design remedies.
As Jose Carlos Serrano was examining the intersection between poverty, pollution and disease in his Bronx neighborhood and comparing it to the data from wealthier and whiter neighborhoods, students across the country also participated in the CELF Civic Science: Inquiry to Action program. Forty different student groups investigated a variety of social issues related to air quality and sustainability. They explored topics such as the mitigating effect of planting a native prairie between a Houston high school and a polluting highway, or the excessive level of Volatile Organic Compounds emitted by school cleaning products in a middle school in Harrison, New York. Other Bronx high school students considered methods by which to inform the public and vulnerable populations in their area about the health effects of bad air quality. One school studied a polluted drainage ditch on the campus, another – disparities in air and water quality in different neighborhoods. One class group measured air quality in urban green spaces, and still other students advocated for air filters in their schools.
Students participating in the CELF program this year used Flow devices, air monitoring technology from Plume Labs, by which they could measure air quality data (including four different pollutants), map the data, compare and share it. When Jose Carlos Serrano studied the data he collected, he saw that the air quality in the Bronx was 50 percent worse on particular March days than in Manhattan. Measurements qualified the Bronx air as "unhealthy for sensitive populations." Although Serrano had anticipated a disparity, he found the results disturbing and "immensely shocking."
"From my studies, I concluded that poorer areas have been at a disadvantage fighting COVID due to unregulated levels of pollution. Due to historic and present racial stigmas, these communities have been exposed to years of pollution and currently today, still suffer," Serrano wrote in his final report. "COVID-19 was an eye-opener to everyone, not just about how pollution is such an important issue and needs to be addressed but also exposed the result of neglect to underrepresented and minority communities."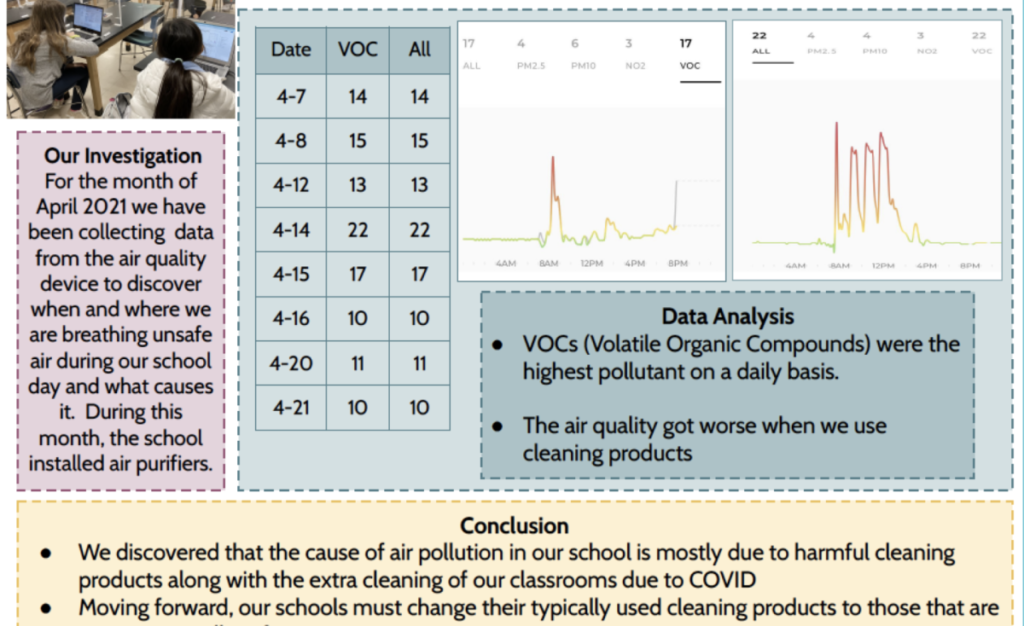 What can we do?
This past May 22, CELF hosted its 4th Annual Student Symposium, this year as a fully virtual event. More than 100 attendees from around the country met in a new virtual reality conference space where they could interact with students presenting projects, listen to keynote addresses, and view research posters. Participating students proposed diverse and detailed plans for their schools and communities as a response to their collected data and investigative research – NO2 emission reduction technology for school buses, community solar panels, discussions with nearby manufacturing companies on ways to reduce their pollution, among others.
Although the Civic Science: Inquiry to Action projects culminate with student presentations, their findings and their plans, the program's most exciting final products are the young civic scientists themselves; They are living, breathing conduits for optimism and positive change, according to Houston Mayor's Office of Education outgoing director Juliet Stipeche, who attended this year's CELF symposium.
"Share the wisdom and the data and the research you have gathered," Stipeche encouraged the students. "It is not to be contained. It is to be shared and celebrated."
As the country was suffering from Covid 19, schools were hurting too, prompting media to label 2020/21 education's "lost year." Academic disruption, student absences and learning gaps, technological and pedagogical chaos – together became the "shadow pandemic" hovering alongside news of the virus itself. The 61 teachers involved in CELF's Civic Science program this year, however, would likely argue that when students are actively seeking solutions, they can never be lost; rather they are engaged and empowered – whether in person or virtually. So, though many perhaps discounted this school year as a Covid's collateral damage, CELF estimates that the 2021 Civic Science program impacted about 6,000 students in New York, Texas, Connecticut, New Jersey and California. As a result, thousands of young people are now facing forward, prepared to make a difference.
For his part, Jose Carlos Serrano says he will continue to share his work, and to advocate for pollution remediation in the Bronx. He wasted no time in his effort to raise awareness by connecting with Sarah Johnson, Executive Director of the Air Quality Program for the New York City Department of Health and Mental Hygiene, who spoke at the Symposium. Johnson gave Serrano her email address and he promised to follow up. He has the tools now to help people in power make better decisions – about air pollution, and much more. Extreme weather events, vast inequity, deadly viruses – society faces massive problems and our collective need for solutions is urgent. When Serrano, and a generation of students like him, commit to civic action informed by data, sustainable solutions are inevitable and our collective future looks a whole lot brighter.