Last January, the Children's Environmental Literacy Foundation (CELF) concluded its first-ever Teachers' Environmental Literacy Series (TELS). This series brought together teachers from around the country to explore sustainability through the lens of the environment, equity, and economics. Our participants walked away from each of these sessions with new insights and student activities to leverage inside the classroom, outside the classroom, or remotely.
The first TELS session focused on Sustainability through the environment. This session commenced by allowing educators to explore and share with one another their own concepts of sustainability using Slido and reflective artwork. Afterwards, Ellisha Newton shared strategic ways to utilise mindfulness in the classroom. During this session, educators were also able to get hands on hands-on experience using Padlet and Jamboard.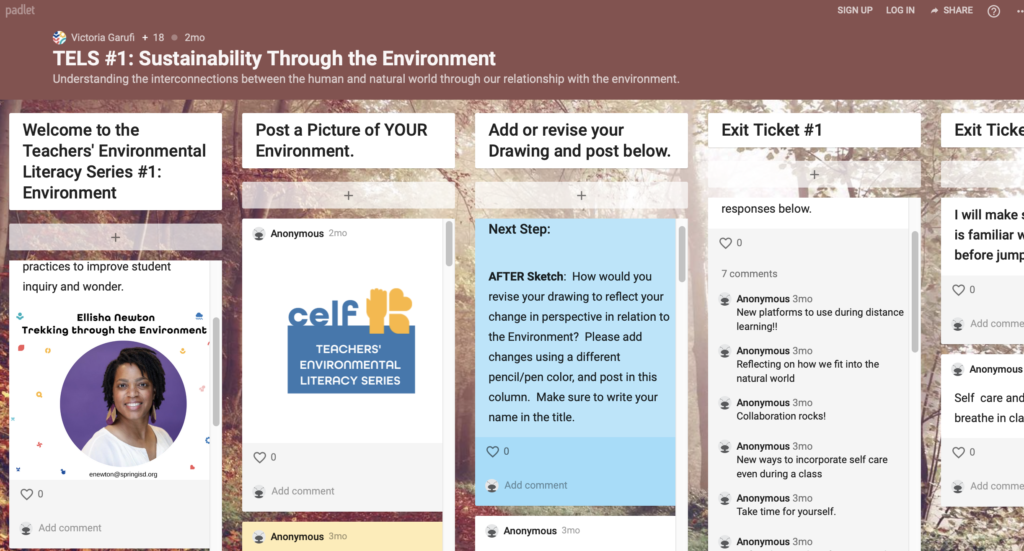 Following the success of the first TELS session, the second TELS session focused on Sustainability through Economic Vitality. John Sigren shared a wealth of teaching materials which demonstrated novel ways educators can integrate discussions about the economy into their respective subjects. During this session, our Professional Learning Community gleaned digital teaching techniques from one another as they discussed best practices to retain student engagement during virtual instruction. More importantly, teachers were provided a much needed space in which they could share their frustrations regarding the difficulties of navigating education in a global pandemic. The session concluded with an in-depth analysis of Kate Raworth's Doughnut Economics and the economic mindset needed to engender planetary sustainability and optimal human well-being.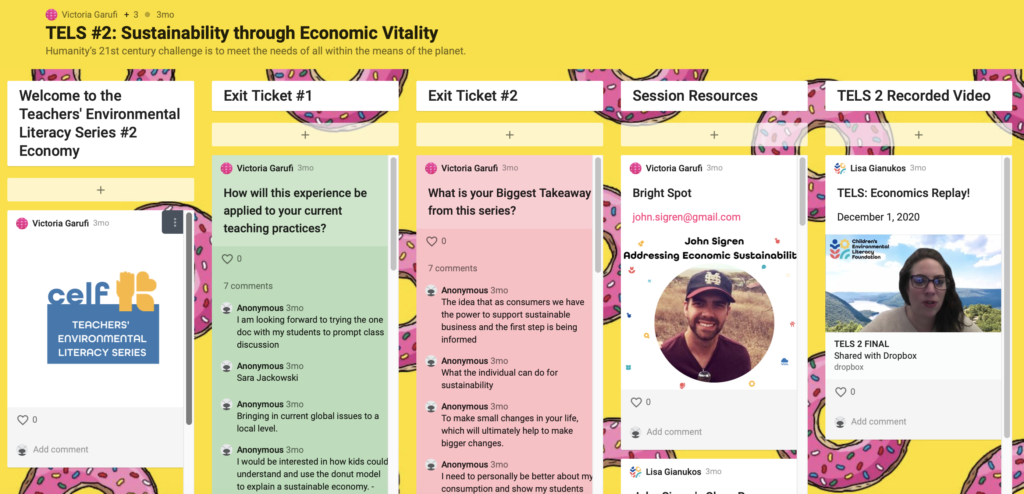 Finally, CELF's TELS series closed with Sustainability through Equitable Communities. This session looked at how to establish equity within our classrooms and for our students by having academic conversations of what equity looks like through the lens of sustainability. Professional Learning Facilitator, Aimee Arandia Østensen presented "Who's Outside: Building the Anti-Racist Bookshelf" which provided educators with a means to explore culturally sustaining pedagogy as part of their best practices. At the end of the session, educators learned about the "Three Levels of Text Protocol" framework.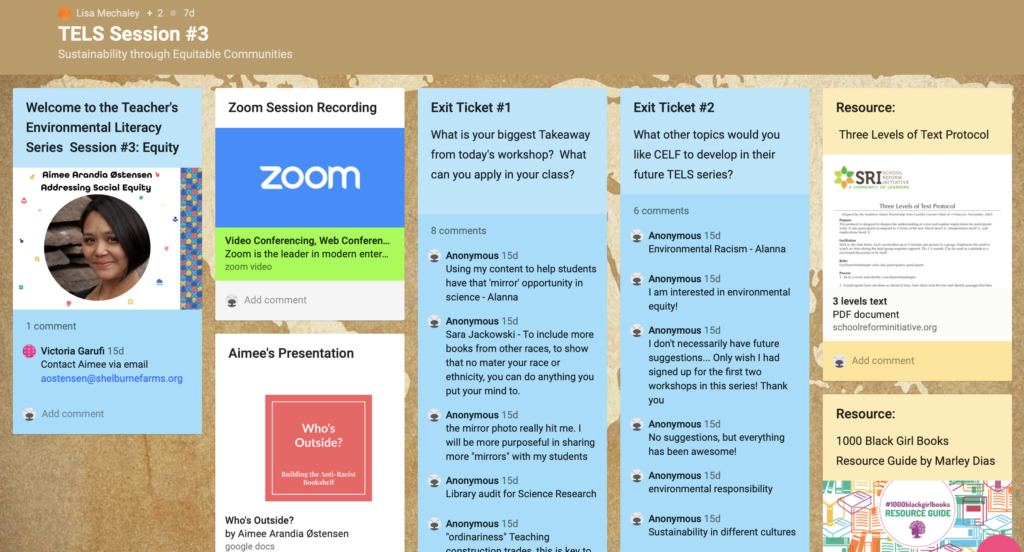 Covid-19 has had a profound impact on teaching. As educators have had to grapple with continuously shifting modes of instruction and digital learning, Education for Sustainability (EfS) may seem as yet another burdensome task to integrate into current instruction. Consequently, CELF's TELS were designed to be a quick yet thorough entry point into EfS that provided teachers with tools and resources that could easily be adapted into their classrooms.
"With everything going on right now, it's difficult for teachers to be intentional. That's what the Teacher's Environmental Literacy Series was about, creating this intentionality. We hope that this series can serve as an enduring EfS thread throughout the academic year." – Lisa Gianukos, Sustainable Schools Program Director