Over the past two years, the Children's Environmental Literacy Foundation has been working with the Putnam Valley Central School District to develop sustainability as an integral part of teaching and learning across all grade levels. The project's goal was to create a lasting legacy of an environmental and civic-minded school community with a deep connection to, stewardship and understanding of the natural world. PVCSD has made great strides connecting sustainability across the curriculum, campus and community in areas from renewable energy to comprehensive waste management. CELF was thrilled to join in the culminating event of the school year.
On the morning of June 5th, students and teachers of Putnam Valley Elementary School arrived on campus for a day of interactive learning, all centered around one important topic: sustainability. "Sustain PV Day" aimed to engage the school's first, second, third, and fourth grade students in critical thinking about the environment they live in. Student knowledge was challenged through a set of four rotating stations, each focused on an aspect of CELF's Big Ideas of Sustainability: environmental integrity, social equity, and economic vitality.
The first station, Change Over Time: PV Then And Now, was led by Sam Oliverio, Putnam Valley Town Supervisor and a graduate of Putnam Valley Elementary himself. Sam discussed the incredible change in tree populations since he was a student at the school, and the effect of these trees on electricity blackouts. Students were prompted to think critically about possible solutions to these blackouts, so that Putnam Valley can maintain the natural environment without having to sacrifice their own needs. Students then travelled to Diversity & Fairness/Equity: Helping to Sustain Others, where they heard from two volunteers from the Putnam Valley Food Pantry. There, they learned about the different factors to consider when confronting food insecurity, and how they can best contribute to the pantry's mission.
Afterwards, students marched all the way across the playground and soccer field for Systems & Interdependence: Exploring Our Local Pond Ecosystem. Equipped with miniature nets and magnifying glasses, students identified various species of creatures and confronted the complex ecosystem that exists so close to their school building. And finally, students arrived at Long Term Effects: What's This Pole? Located out in the parking lot, this station investigated the school's wind-solar pole, which powers a lamp post with entirely clean energy. David Spittal taught students about the implications of sustainable energy, and challenged them to learn more about where their own energy is sourced from at home.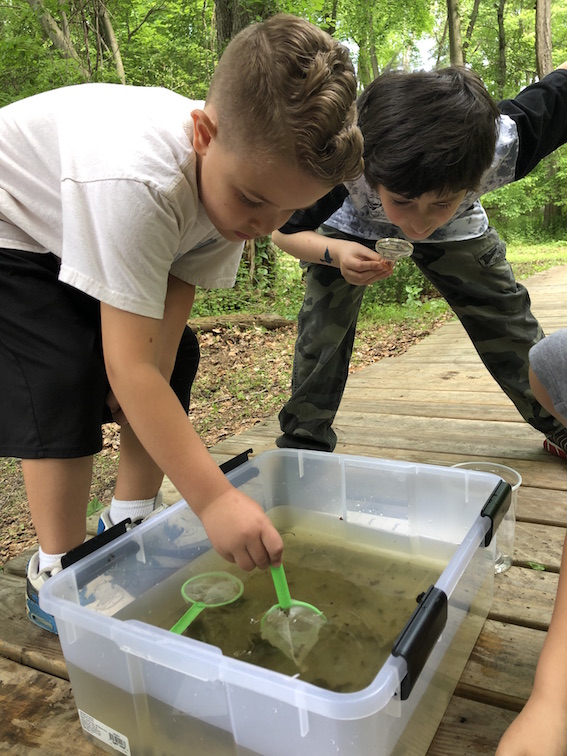 And while lunch time provided a break from these activities, there was no break from sustainable thinking. Students ate outside on the soccer field in an effort to remain connected with nature, and the school played music to encourage mindfulness. Additionally, everyone was invited to bring their own dishes from home, in the aim to have an entirely trash-free lunch. And when recess rolled around, students had the opportunity to help create reusable bags out of old t-shirts. Every moment of this day engaged students in creative learning experiences that they surely won't forget any time soon.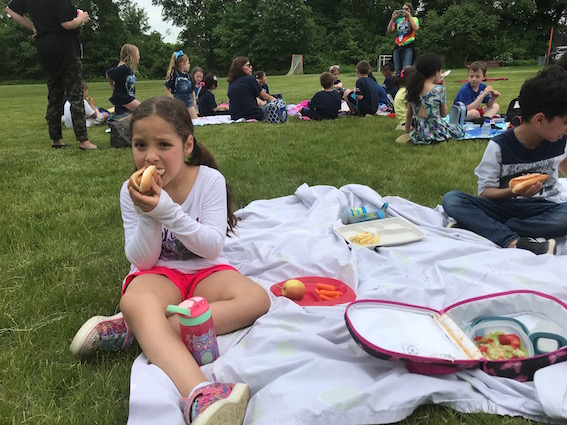 While this was a unique day for the Putnam Valley community, sustainability has been a staple of the school district's culture for quite some time; the leadership and commitment of teacher Jen Bruno and librarian Liz Broas has made sustainable change a reality within the elementary school. This culminating event did a great job of immersing students in the mindset of sustainable action, and sets a great precedent for further sustainability efforts in the future at Putnam Valley.